The Galapagos Islands are located approximately 600 miles off the Pacific coast of Ecuador and make up an archipelago of 13 main islands, 17 islets and 47 reefs. These islands are the tips of huge submerged volcanoes that emerged off the ocean floor several million years ago and together comprise an underwater platform. Due to the fusion of at least 7 currents including the cold Humboldt current from Antarctica and the warm El Nino current from Panama, it is not unusual to see fur seals and penguins swimming alongside reef fish and marine iguanas - indeed, a quarter of marine life found here exists nowhere else in the world., making it a unique Dive Site. Made famous by Charles Darwin's voyage of the Beagle in 1835 and his subsequent publication on the Origin of Species in 1859, the islands remain a living laboratory of evolution, where many rare species can be seen. In an effort to protect and preserve them, the Galapagos were declared a National Park in 1959 and subsequently a Marine Reserve in 1985. More recently in 2016 the Ecuadorian government created a marine sanctuary of 15,000 square miles around the islands of Wolf and Darwin to conserve the ecosystem and all the marine life that depend on it, such as the many sharks that congregate there. This means that up to 32% of seas around Galapagos will now be protected from fishing.
The biodiversity of the Galapagos is spectacular and the main attractions are the likelihood of seeing large pelagics and hundreds of schooling hammerheads that block out the sun due to their vast numbers which can be seen all year round. On a single dive you are likely to see more than one species of shark including white tips, Galapagos and silky sharks not to mention the spectacular whale shark. The profusion of marine life includes mantas, turtles, penguins, many species of rays, dolphins, morays, marine iguanas and the ever inquisitive sea lions that swim up to your mask to check you out on almost every dive. Macro lovers will also not be disappointed with possible viewings of blennies, sea horses and the ever curious red-lipped bat fish.
Diving is good all year round and can be divided roughly into two seasons:
The warmest months from December to May when waters are between 21-26 degrees C and the colder months from June to November when waters are between 17-24 degrees C when the seas can be choppier although this is when whale sharks tend to appear. As Galapagos lies on the equator, air temperatures hover between 20-31 degrees C (68 degrees - 88 degrees F) with a constant slight breeze. The islands are spread out over a vast area and each island has its own micro climate with sea temperatures generally being warmest in the north around Wolf and Darwin and coldest in the west around Isabela. A 5-7 mm wetsuit or semi dry suit with hooded vest and gloves is recommended consisting of layers to cater for changes in temperature.
Diving in Galapagos can be divided into 3 zones: the central islands where the waters are warmer and calmer as the area is protected from the harsher currents by Isabela Island. The western islands which are open to the Pacific and influenced more by the equatorial currents and therefore contain very diversified marine life. The northern and most remote islands of Wolf and Darwin which often have strong currents and surges but can provide some of the most spectacular diving with many whale sharks and schooling hammerheads.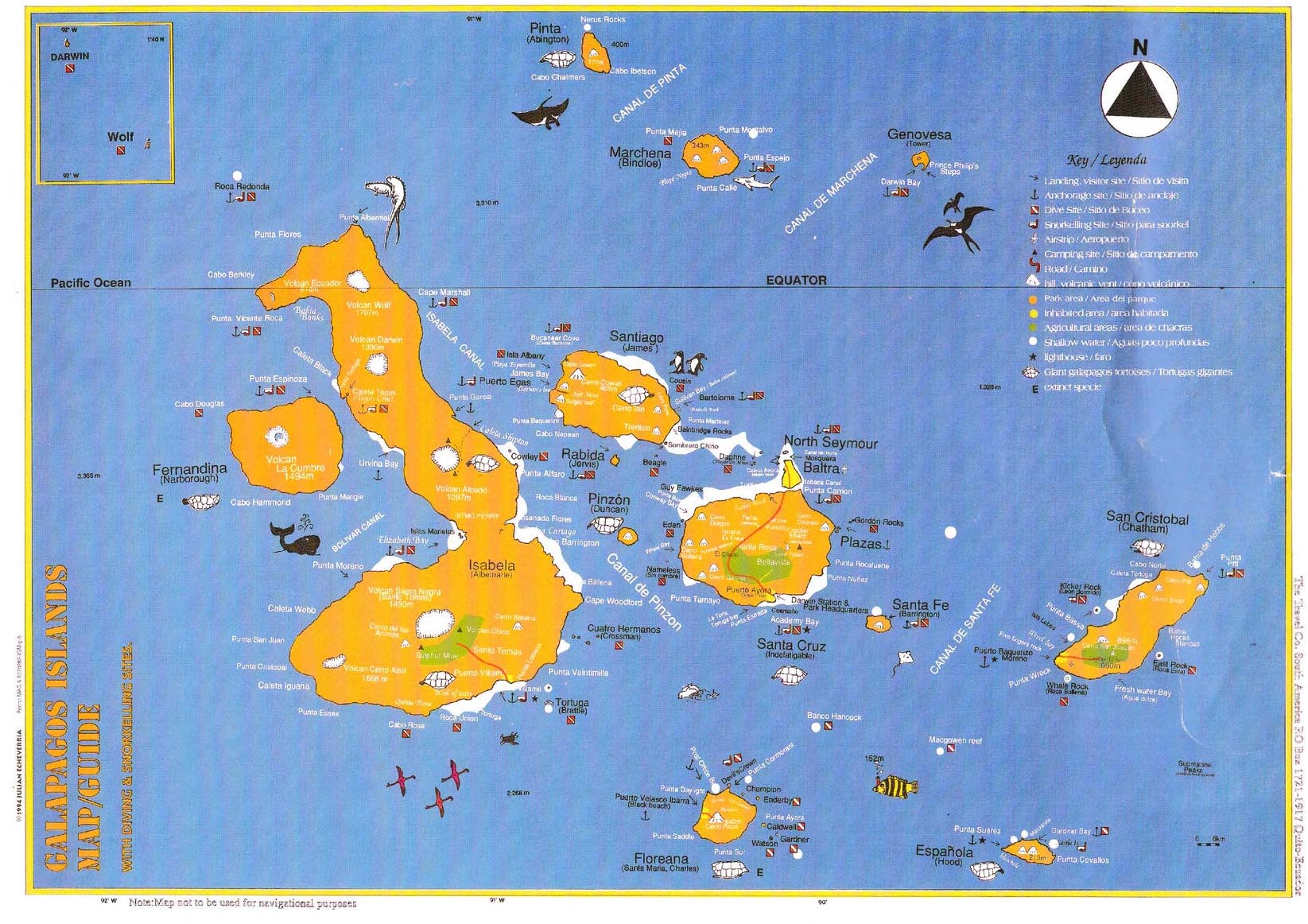 There are 3 diving options available depending on your skill and level of experience.
Option 1 Liveaboard cruises for experienced dive enthusiasts lasting from 7-10 days which is the only way to dive the iconic islands of Wolf and Darwin where you can see schooling hammerheads, whale sharks (May-November), manta rays, sea lions and a variety of rays. A minimum of 50-100 dives is recommended with experience in cold waters. Please see below for various liveaboards available.
Option 2. Occasional diving is offered on some of the naturalist cruise boats at an additional charge. This may be up to 2-6 dives in one week depending on weather conditions. Some dives may be instead of shore visits and divers require at least 20 dives experience. This is more convenient if a diver is with a non diver and has less experience and does not have time to stay on the islands for shore based diving, although most naturalist cruises will offer plenty of snorkelling where you can see almost as much as diving on the islands although no naturalist cruises go to Wolf and Darwin as there are no landing sites there only diving sites.
Option 3 Shore based diving can be provided from 1-7 days as a package at one of the Dive PADI centres on the islands where there is a good choice of accommodation catering for everyone's needs. Shore based diving can be done on its own or as an addition to your naturalist cruise. There are 3 islands that have PADI centres and there are various levels of dive sites to choose from depending on your level of experience, although none of the dives will cover the islands of Wolf and Darwin due to their remote location and the distances involved.
For option 1, the various Galapagos Liveaboards available are:
| | | | |
| --- | --- | --- | --- |
| For a sample itinerary click on the boat name | For a sample itinerary click on the boat name | For a sample itinerary click on the boat name | For a sample itinerary click on the boat name |
| | | | |
| | | | |
| For a sample itinerary click on the boat name | For a sample itinerary click on the boat name | For a sample itinerary click on the boat name | For a sample itinerary click on the boat name |
| | | | |
| | | Danubio Azul | M/V Astrea |
| | | | |
The above prices are in US dollars and are per person based on 2 sharing a cabin. Single supplement is charged for a guaranteed single cabin if not wanting to share and this varies from boat to boat.
The above prices are for the boats only and include full board and all dives accompanied by a dive master. Weights, weight belt and tanks are included although some boats charge extra for nitrox. Some boats also include free beer and alcoholic drinks. Local transfers in Galapagos from the airport to the boat are included. To give you an idea of the cost in £ sterling, please use the approximate exchange rate of 1.3 although this may fluctuate at the time of booking depending on the prevailing exchange rate.
Not included in the price:
International and Galapagos flights

Add ons in mainland Ecuador including hotels, tours and transfers

National Park Entrance fee of US$100 per person

Hyberbaric chamber fee of US$35 per person

Ingala tax fee of US$20

per person

Nitrox where not included

Rental of full gear

Alcoholic drinks and beverages where not included

Tips and additional items of a personal nature.
Diving is challenging but very rewarding. Due to strong cold currents and surges, for the liveaboards we recommend at least intermediate or advance open water certification with 50-100 logged dives with preferably some experience in cold waters. All divers will be asked to fill out dive forms with their logged diving experience, a dive waiver form and they will be assessed accordingly. All divers will be advised to take out appropriate health and dive insurance accordingly.
Galapagos diving is incredibly varied and never dull. In the colder months, apart from numerous whale sharks, it is possible to also see hump back whales, pilot whales and melon headed whales and in warmer months a large variety of rays can be seen including the marble ray, the cow ray, the eagle ray and the mobula ray not to mention the graceful manta ray slowing gliding by. Add to this, schools of colourful fish, darting flightless cormorants, prehistoric marine iguanas, playful penguins and the occasional mola mola and you have an underwater display of dazzling theatrics.
All liveaboard itineraries also include a few shore visits and each island is unique with its own evolved species. Galapagos is famous for its topside wonders and includes a large number of seabirds such as waved albatross, frigates, 3 types of boobies, petrels and pelicans not to mention mockingbirds, herons and Darwin finches. The landscape is dramatic and often lunar in appearance with sweeping fields of solidified ropey lava and mysterious lava tunnels where marine iguanas are often found sunning themselves on nearby rocks with brightly coloured Sally light foot crabs edging slowly by. You may also encounter giant tortoises, lava lizards and brightly coloured land iguanas and your trip would not be complete without a visit to the Charles Darwin Centre or the Interpretation Centre which gives you an in depth historical background to the islands and is included in most itineraries.
Getting to Galapagos
There are no direct flights to the Galapagos and to get there you have to go via Ecuador. Currently there are no direct flights to Ecuador from the UK. Routes most commonly used are:
| | |
| --- | --- |
| | London (or regional airport) to Quito or Guayaquil via Amsterdam with KLM |
| | London (or regional airport) to Quito or Guayaquil via Madrid with Iberia |
| | London to Quito or Guayaquil via Miami with American Airlines* |
| | London to Quito or Guayaquil via Houston with Continental airlines* |
An ESTA form is required to enter the USA, even if in transit. These are not expensive and can be obtained online and last for 5 years
We recommend a 2 night stay in Quito or Guayaquil before the cruise in case your flight or luggage is delayed and you will have a 1 night stay after your cruise due to flight time connections. If you do not intend to do any land visits in Ecuador then we would recommend flying in and out of Guayaquil which is at sea level and less tiring and also more direct for flying to Galapagos as most flights from Quito to Galapagos touch down at Guayaquil. Flight time from Quito to Guayaquil is 40 minutes and from Guayaquil to the Galapagos islands 90 minutes. Ecuadorian time is -5 hours GMT and Galapagos time is -6 hours GMT. There are 2 airports on the Galapagos islands - Baltra and San Cristobal - and the livaboard you have chosen will be waiting at one of those airports to pick you up. We can book the international flight for you or are happy for you to book it independently but for the Galapagos flights we usually liaise with the boat operator who books them on your behalf. On arrival in Galapagos you will be met by the boat guide and transferred to the boat which varies from 10-20 minutes. You can also stay on the islands after your cruise and there are plenty of activities to choose from - whether it's hiking, kayaking or simply relaxing on one of the pristine beaches - there are 4 islands to choose from with a variety of small but charming hotels to stay at. Additionally, if you decide to do some land tours on mainland Ecuador, it would be advisable to fly to Quito where most of the tours start from. You can also fly into Quito and fly out of Guayaquil or vice versa giving you maximum flexibility. Ecuador is a small country by Latin American standards but boasts some of the most diverse scenery, flora and fauna and we offer 3-5 day Amazon trips, 4 day Andean steam railway trips, 1-3 day trips to nearby cloud forests, thermal springs and indigenous markets and also why not take half a day to explore colonial Quito, a UNESCO heritage site full of traditional churches, palaces, cobbled streets or sample the delicious local cuisine. We can organise everything for you and even combine Galapagos with Machu Picchu or Lake Titicaca if you want to include them on the same trip. Nothing is too much as we aim to provide you with a trip of a lifetime and a truly memorable and unforgettable experience.
No vaccinations are required for Galapagos but some vaccines and anti malarials are recommended for the Amazon and some areas of mainland Ecuador. For the latest advice please visit www.fitfortravel.nhs.uk.
UK nationals receive a 90 day tourist visa automatically on entering Ecuador and all nationals require at least 6 months validity from the return date of travel on their passport.
Baggage allowance for international carriers will vary according to each carrier but for the Galapagos it is 23 kilos and 10 kilos hand luggage.
Early booking is essential in order to avoid disappointment as departures get very booked up, especially during the whale shark season from May to November. We can hold cabins without a deposit giving you time to think about it and then once you have decided to confirm we will only take a small deposit with final payment being due 60-90 days prior to departure (depending on the boat), giving you plenty of time to think about any additional tours you may want to add on.
Special Offer A great 10 day adventure in the Galapagos Islands